Royal Doulton - Burslem - Lambeth
Pottery Fairy Lamp bases commissioned by Samuel Clarke
A brief history by Phil Chave
Royal Doulton can trace its ancestry back to 1815 with the founding of a factory at Vauxhall Walk, Lambeth, London. John Doulton, in partnership with Martha Jones and John Watts. The firm specialized in making stoneware articles ranging from decorative bottles to saltglaze sewer pipes.

Soon the company assumed the Doulton name (1853) and John with his son, Henry, had established themselves as makers of fine English stoneware, and using the limited range of colours which that material permits, produced a wide variety of decorative items for the more affluent members of society.

It was during the early years of the reign of Queen Victoria (1837-1901) that the great revolution in personal sanitation occurred and Henry Doulton was at the forefront of domestic and industrial stoneware products. This enabled Doulton to became Britains leading manufacturer of sanitary ware as well as a major influence and producer of artistic pottery and commemorative, ornamental and tableware products.

Some examples of Lambeth Doulton and Royal Doulton marks.
In 1871 Henry established a studio at the Lambeth pottery and offered work to designers and artists from a nearby Art school. Several of these designers have come to represent the best that Doulton had to offer. Names like the Barlow family (Florence, Hannah and Arthur), Frank Butler, Mark Marshall, Eliza Simmance and George Tinworth are commanding increasingly higher prices. The Lambeth pottery ceased production in 1956.

It was during this time of intense creativity and expansion that Doulton came to the attention of the Royal Family. In 1882 Doulton acquired the small factory of Pinder, Bourne and Co. at Nile Street, Burslem, Staffordshire, in the heart of Bone China country. Henry soon discovered that as a Londoner he wasn't welcome 'up North' and is ascribed with saying "In their view, we Southerners know little about God and nothing at all about potting".

In spite of this, and through the artistic direction of John Slater, Doultonware grew ever more popular with its tremendous variety of figurines, vases, character jugs and decorative pieces, and in 1901, the factory was granted the Royal Warrant by King Edward VII. This resulted in the company adopting bold new markings and a new name, Royal Doulton.

Between the wars, Royal Doulton became synonymous with the finest English china throughout the world. Character Jugs, huge quantities of figurines, Bunnykins dishes and plates, Flambe Ware, Titanium Ware, Bone China have only added to the Doulton name and reputation.

Since the war, as is inevitable with modern business methods, production had to shift toward simpler designs which could be mass-produced and at a much more affordable price. Even so, Doulton haven't lost their flare for technical innovation that allows for the use of cost effective yet high quality production techniques for which they have always been famous.

Author: Phil Chave www.antiquecollector.uk.com
Henry Doulton of Burslem, England patented "a method of ornamenting China and Earthen Ware and other Pottery", England 1882 and US #314002, 1885. This was done by "impressing textile fabric, such as lace, upon the clay, together with the application of color or colored clay, and pressing the clay so embossed in plaster or other molds ..." Source "Fairy Lamps - Elegancy in Candle Lighting" by Ruf
Following are a few examples of pottery fairy lamp bases commissioned by Samuel Clarke. It was a decision of the purchaser as to the type of fairy lamp shade they wamted to use with it. However, Clarke always advertised these bases with decorated Burmese ware made by Thomas Webb and Sons.

Note: Images with the caption "Ruf - xxx" are courtesy of "Fairy Lamps - Elegance in Candle Lighting" by Ruf
Ruf - 471
Doulton - like
Not Doulton Burslem


Ruf - 521
Rd 53913
Patent AS63442
Ruf - 479
US Pat 314002
Rd No 99929.
Clarke Model 308
Ruf - 474
Clarke Model 305



Ruf - 480
Clarke Model 307



Ruf - 476
US Patent 314002,
Rd. No.99934
Clarke Model 306
Ruf - 585
Doulton - like
Unmarked
Ruf - 478
Clarke Model 301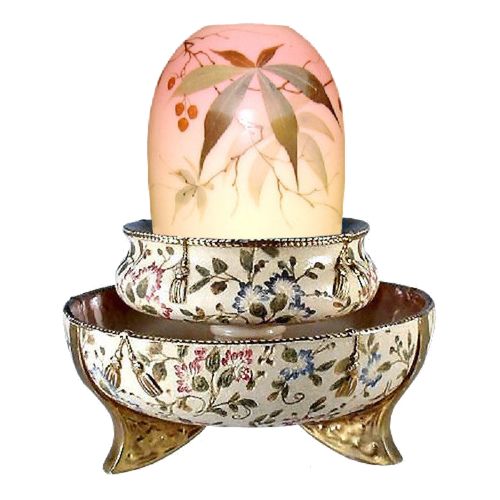 Ruf - 482
US Patent 314002
Rd No 99929
Clarke Model 304
U - 223
Doulton & Slaters Patent
Ruf - xxx
Clarke model 307


Ruf - 477
Clarke Model 302



Ruf - 475
US Patent 314002
Rd. No. 99929
Clarke Model 308
Ruf - 477
US Patent 314002
Rd No 99930
Clarke Model 302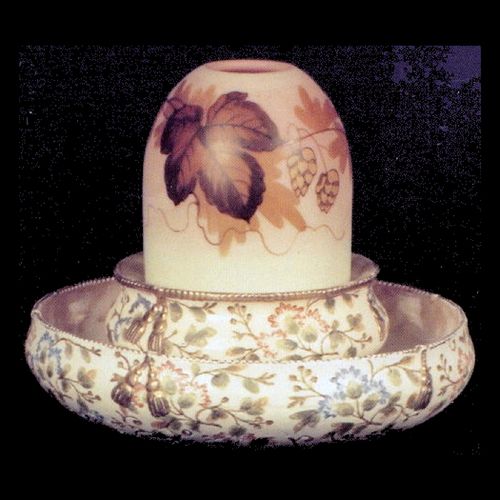 Ruf - 480
Clarke Model 307



Ruf - 481
US Patent 314002
Rd No 99932
Clarke Model 299
Fairy Lamp Club Newsletter Articles