George Davidson was born in Gateshead, Tyne & Wear in 1822 and was the son of a local miller. By trade he was a butcher but was a man of enormous energy and involved himself in many local businesses and societies. He was a member of the liberal party and became mayor of Gateshead from 1886 to 1888. He was so inspired by Sowerby's of Gateshead that he decided to try out a new enterprise of glass making.

Among his first products were glass chimneys for paraffin lamps. The chimneys increased the light and confined the unpleasant fumes of the burning paraffin coated wicks. One of Davidson's most well known products was pearline, which he patented on 7th December 1889 and it remained in production for nearly 30 years. The first color used was blue, but yellow and the almost clear (known as moonshine) soon followed. Despite it being Davidson's invention, many other pressed glass manufacturers soon copied the pearline.

George Davidson died on February 22, 1891. Thomas Davidson, his son, became general manager of the firm on the death of his father. Thomas was a keen sportsman and his two great passions in life were horses and the glassworks. He was a skilled glassmaker and designed nearly all of Davidson's domestic ware.

Under his management the glassworks were updated and became successful. This however was short lived with the advent of the 1926 coal strikes and competition from America, Czechoslovakia and Belgium all becoming a serious threat.
When Thomas Davidson died in 1937, his nephew Claude Fraser took over as manager. Although not a glassmaker himself, he did the company of Davidson's proud by steering the firm through the difficult war time period. Decorative glassware production was halted at this time as all energies were put into glass for radar screens, tanks, ships and aerodrome runways lights.

After the war, restrictions still remained on the production of decorative glass and these were not lifted until the 50's. However, Davidson's continued to produce the popular range of hobnail and diamond patterns lamps.

On the death of Claude Fraser in 1959, the management underwent several changes and the firm was eventually taken over by Abraham's in 1966. Abraham's & Co. as it had been renamed did well with exports even though rival firms could supply the world markets more cheaply. The firm suffered from high and erratic fuel prices during the 70's and never fully recovered its earlier success.

The glass works were finally abandoned in 1987 and were demolished soon after, marking the end of 120 years of the Davidson tradition, of supplying popular pressed glass of high quality from Gateshead to the world.

Source: "Davidson's Glass from Gateshead to the World", 1993.




The Davidson "Pearline" fairy lamp appeared in the Clarke catalog without a model number. It was simply labeled "Clarke Pearline". It is assumed that Clarke commissioned Davidson to produce this fairy lamp.

It came in several colors with subtle variations within each color.

It is pressed glass with a very smooth texture.

Davidson Registered Design Number 130643, August 16, 1899


Following are several examples of Davidson's "Pearline" fairy lamps: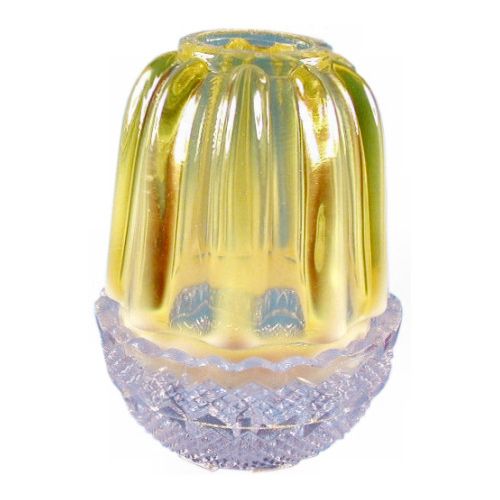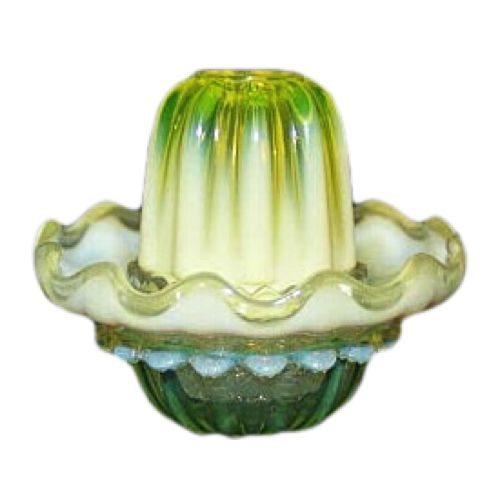 It is not clear if the Davidson Pearline base is correct or not. But, it makes a nice companion.
Vaseline under black light (left) and natural light (right)